PitchKits.com was a fabulous partner and worked diligently with us to find the best solution. Our coordinator, Stacey, was incredible and gave a level of customer service that has spoiled us for anyone else. Ultimately, the product was even better than imagined.
Liz Woods
Director of AF and Campaign Strategy
University of Michigan
Ross School of Business
I enjoyed working with PitchKits and would recommend them to anyone! Price points are good and the selection of products to choose from are innovative and there's a nice variety. Response time is fast and they are always willing and open to new ideas even if it has to be a custom job.
Zakiya Johnson
Sales & Marketing Program Administrator
Schuco USA LLLP
As a design and marketing company, we decided we wanted to make more of a 'splash' during our Client Presentations - we naturally met with a few of our local printers to see what they could offer us in terms of custom packaging for our company brochures/etc. We weren't happy with any of the materials they presented, and pricing was way outside of what we'd intended on spending. Turning to the internet, we were very intrigued when we found PitchKits.com. Their products were exactly what we had in mind, but we were skeptical of their pricing - as it seemed a bit low for the nice-looking products they advertised on their site. We just assumed we'd be 'nickel-and-dimed' during the order process - but after discussing MULTIPLE different products with different texture/printing/quantity combinations - our sales rep, Stacey Buckless, explained pricing in perfect detail (having nothing but the utmost patience for our relentless indecisiveness, I might add!). We moved forward with 2 different design versions for one of their products and were ecstatic when we received the finished products! Thank you, Stacey and PitchKits.com for everything - we'll certainly be using you again and again in the future!
Kim Johnson
Director of Operations
Asayo Creative, Inc.
I just wanted to say thank you so much for all your help and the help of your designer to make our binders look great! My boss was thrilled with them and we will definitely continue to use you as a vendor in the future. So appreciative of your attentiveness to your needs and ability to creatively problem solve.
Emily Petrie
Technical Administrative Assistant
*/SpinFusion/*, Inc.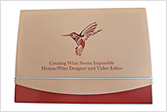 The package was a HUGE success...I won Best in show because of it (which is the highest award you can receive). Thank you so much! They look great.
Charday Bell
Motion/Print Dsigner and Video Editor
We love the kits! They look great! Thanks for all you've done; you made the experience very pleasant and not stressful! We will definitely be using you guys again!!
Olivia Workman
Faith Life Church
Johnstown, OH
I got them today. They look great! Exactly as I pictured. Thanks so much.
Karen
Business Development Assistant, Arvada, CO
Thank you so much for your help (and the price!). All the portfolio boxes arrived in the time stated and in great condition.
Rene Napier
BCN Communications, Chicago, IL
They were here waiting for me when I walked in yesterday morning :) I think they look great and will work really well for our press kits. I will definitely let you know if we need to place another order.
Thank you for your help!
Cora
Greenwood Village, CO
The folders look awesome!
SM
New York, NY
Thank you so much for your collaboration on our project. I will let you know as soon as we get our binders.
Linda
Montreal QC
The boxes look amazing! Thank you for all your help and getting them to us as quickly as possible.
Thanks again!
Jennifer
San Diego, CA
Stacey, thanks for your help on this order!
Gloria
San Jose, CA
We love them!
Suzy
Addison, TX